PUG NECKLACES
Pug dog design necklaces in a variety of styles.
---
Pug Dog Pendant Necklace with Movable Legs and Tail
From the moment you gazed into those puppy-dog eyes, you knew that furry friend would be in your heart forever! Now you can show the world just how much you love your captivating canine with this dog lovers diamond pendant necklace, a Bradford Exchange exclusive fine jewelry design. Your Pug's adorability will be forever captured on a sterling silver-plated pendant, hand-painted to highlight the amazing detail.Just too doggone cute for words, this unique dog lovers jewelry is full of wag and wiggle as the legs and tail really move. Plus, there is a sterling silver-plated heart charm with a genuine diamond and a Pug-specific message that dangles gracefully next to your precious pup. Arriving with a jeweler's pouch and gift box, this beautiful dog lovers diamond pendant necklace is sure to win your heart. Hurry, strong demand is expected. Order now!

---
Heart-Shaped Crystal Dog Pendant Necklace: Pug, Close To My Heart
Show your love for your faithful friend with this heart-shaped Pug pendant necklace, a fine jewelry design exclusively from The Bradford Exchange.With an adorable full-color portrait of a Pug as the centerpiece, this handcrafted Pug pendant jewelry captures a Pug's sparkling personality within the multi-faceted brilliance of a heart-shaped crystal pendant. The pendant is coupled with the gleam of a solid sterling silver bail and a sleek 18" solid sterling silver chain and arrives in a custom-designed gift box

---
Loyal Companion Dog Lover Pug Pendant Necklace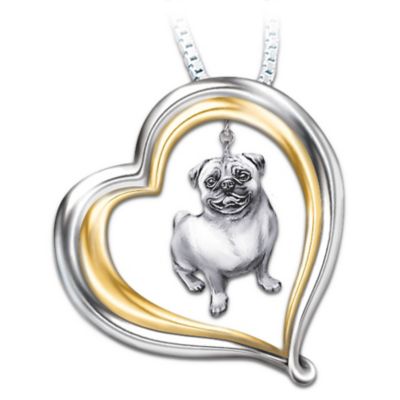 Handcrafted in solid sterling silver and highlighted with radiant 24K-gold touches. A heart-shaped pendant lovingly surrounds a fully-sculpted sterling silver charm of an adorable Pug and hangs from a matching 18" sterling silver chain. Engraved on the reverse side of the pendant is a pair of paw prints and the sentiment "I love Pugs" to serve as a constant reminder of the love you have for your most loyal friend.

---
Best In Show Dog Lovers Pug Crystal Pendant Necklace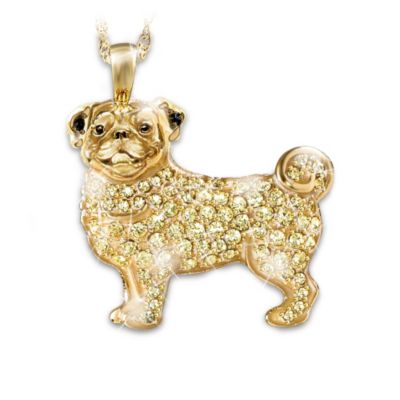 Skillfully relief-sculpted and embellished with Swarovski crystals, the lovable look of your Pug and even the distinctive colors of its coat are both captured in this Best In Show crystal pendant necklace treasure, a fine jewelry design available exclusively from The Bradford Exchange.Crafted by hand in solid sterling silver and richly plated in 24K gold, this Pug crystal necklace features a detailed, relief-sculpted image of a Pug enhanced with genuine golden blonde Swarovski crystals to capture the essence of its shining coat.

---
---
LIKE us on our new Facebook page for fun pug stuff and product updates!