PUG BOOKS
Books about pugs including owner/training manuals, and fun story books for kids who like pugs..
---
101 Uses for a Pug
101 Uses for a Pug: Looking at them

---
Animal Planet Pugs Book
The Pug is a playful dog who can easily captivate those in his company. Learn more about this outgoing and affectionate breed

---
Pug Principles Book
Pugs are uninhibited

---
Pugs Barron's Dog Bible
Each title in Barron's brand-new Dog Bibles Series for dog lovers and prospective dog purchasers discusses a specific dog breed in detail

---
Pugs Complete Pet Owner's Manual
All titles in Barron's profusely-illustrated Complete Pet Owner's Manuals introduce inexperienced and prospective pet owners to the pleasures and duties of pet care. Attractively illustrated and filled with helpful information

---
The Pug Book
Discover a whole new world of dogs with this revolutionary

---
The Pug Handbook
In spite of its rough appearance

---
Chick 'n' Pug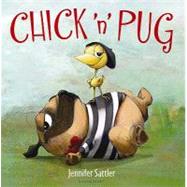 Chick leaves the boring coop in order to find his hero, Wonder Pug, and a little bit of excitement.

---
---
LIKE us on our new Facebook page for fun pug stuff and product updates!