PUG RETURN ADDRESS LABELS
Pugs and Puggles Designs mail return address labels in a variety of styles. These are also great for marking books, folders, CD's, and other personal property items.
---
Pug Dog Faithful Friends Return Address Label
"You look at me with eyes of love" caption.

---
Colorful Pug Address Labels

---
Cartoon Pug Address Labels

---
Pug Labels

Express your love and appreciation for this popular breed with these address label designs featuring close-up stills of their cute faces. Matching checks and coordinating checkbook covers are also available.

---
Pug Wallpaper Labels
Wall to wall pugs are featured on these address labels with four rotating background colors.

---
Playful Pugs At The Park Address Labels
4 action photos of pugs in a variety of playful settings.

---
Pug Faces Address Labels
Take a look at these cute and adorable pug mugs in Pug Portraits Labels.

---
LOL Address Labels
Funny Pugs Address Labels to go with our LOL Pugs Personal Bank Checks.

---
Pugs Are Sleepy Address Labels
Snoozing and yawning.

---
Pugs are Mischievous
4 pugs getting into all sorts of trouble.

---
Top Dog Breeds - Pug Address Labels
Self-adhesive, offering a fast and convenient way to mark your return address. Find a set to match your checkbook or choose a new design. Our labels are bound checkbook-style and can include up to 3 lines of personalization. Photography by Faith A. Uridel.

---
Pug Mugs Address Labels
Cute pugs running around and doin' their thang.

---
Pug Puppies Address Labels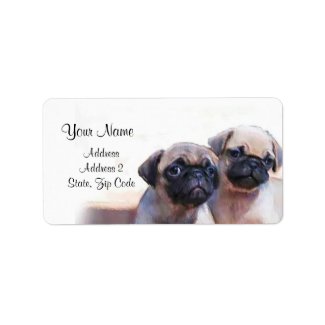 Each label measures 1 1/4" x 2 3/8". Sheets of 18

---
Pug Face Address Labels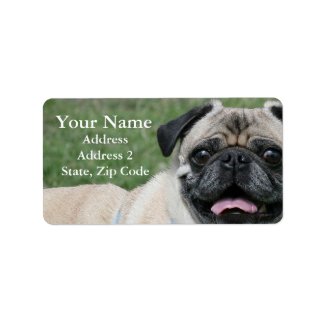 Each label measures 1 1/4" x 2 3/8".

---
Vintage Pug with Crown Illustration - Altered Art Labels
Several sizes to choose from - feel free to customize this any way you want.

---
Pug Line Art Custom Return Address Labels
Plain and simple style. Personalize it with your own text. Use the "edit" menu to change background to any color you want.

---
MORE: Pug Design Address Labels at Zazzle.
PUGGLE LABELS TOO!
Puggles Return Address Labels
Puggles are one of the more popular "designer" dog breeds.

---
Cool Puggle Return Address Labels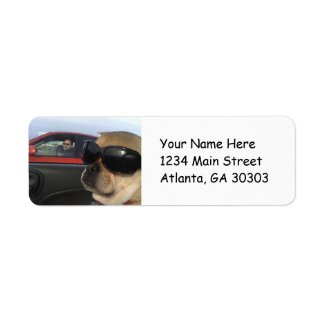 3/4" x 2 1/4" - 30 labels per sheet.

---
---
LIKE us on our new Facebook page for fun pug stuff and product updates!